Here are the most valuable books and other resources I have found on the Finnish epic, the Kalevala. Most links are for more info at Amazon.com, an affiliate.
Translations
The Kalevala: Epic of the Finnish People, translated by Eino Friberg, edited by George C. Schoolfield, illustrated by Björn Landström, Otava Publishing Company, Helsinki, 1988. By far the finest translation, surpassing all others in accuracy, authenticity, and beauty.
The Kalevala, or Poems of the Kaleva District, compiled by Elias Lönnrot, translated by Francis Peabody Magoun, Jr., Harvard University, Cambridge, Massachusetts, 1963. A valuable second choice, and more easily obtainable.
The Old Kalevala and Certain Antecedents, by Elias Lönnrot, translated by Francis P. Magoun, Jr., Harvard University, Cambridge, Massachusetts, 1969. This is from earlier editions of Lönnrot's work and provides an alternate version of much more manageable length.
Kalevala: The Land of the Heroes, translated by W. F. Kirby, Dutton, New York, and Dent, London, 1907, two volumes. While not among the best English translations, Kirby's was the first, and was responsible for introducing the epic to English speakers. Among those it inspired was Longfellow, who drew on it for his "Hiawatha."
Finnish Folk Poetry—Epic, edited and translated by Matti Kuusi, Keith Bosley, and Michael Branch, Finnish Literature Society, Helsinki, 1977. Not a translation of the Kalevala itself but of pieces from the folk tradition from which the Kalevala was drawn. Includes many interesting variants that help illuminate the choices made by Lönnrot.
Retellings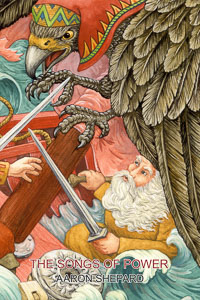 The Songs of Power: A Northern Tale of Magic, retold by Aaron Shepard, Skyhook Press, Olympia, Washington, 2007. My own retelling in free verse. (The full text can be found on my Web site.)
The Magic Storysinger, by M. E. A. McNeil, Stemmer House, Owings Mills, Maryland, 1993. A poetic retelling for young people by a true lover of the Kalevala. With paintings by the author.
The Sampo, by James Baldwin, illustrated by N. C. Wyeth, Scribners, New York, 1912; reprinted by Yesterday's Classics, Chapel Hill, North Carolina, 2006. An older, longer prose retelling for young people, by a distinguished children's author/educator and an equally distinguished illustrator. (But to get the effect of Wyeth's illustrations, you'll need a copy of the original edition.)
Heroes of the Kalevala, by Babette Deutsch, Julian Messner, New York, 1940. A prose retelling for young people.
Land of Heroes, by Ursula Synge, Atheneum, New York, 1978. Another prose retelling for young people.
Louhi, Witch of North Farm, by Toni de Gerez, illustrated by Barbara Cooney, Viking Penguin, New York, 1986. A lovely, lyrical picture book that gave me my first glimpse of the epic. Focuses on a portion of the Kalevala not included in my own retelling.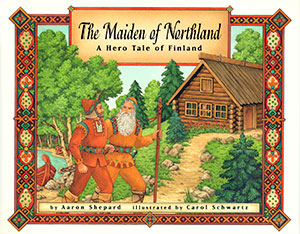 The Maiden of Northland: A Hero Tale of Finland, retold by Aaron Shepard, Atheneum, New York, 1996. An earlier version of my retelling, published as a picture book. Winner of an Aesop Accolade from the American Folklore Society.
Background
Kalevala Mythology, by Juha Y. Pentikäinen, translated and edited by Ritva Poom, Indiana University, Bloomington and Indianapolis, Indiana, 1989.
Epic of the North: The Story of Finland's Kalevala, by John Kolehmainen, Northwestern, New York Mills, Minnesota, 1973.
Miscellaneous
Kalevala: Dream of the Salmon Maiden (audio CD), Ruth MacKenzie, Omnium Recordings, 1998. A knockout musical performance, based largely on the Kalevala's story of Aino and drawing on authentic Finnish musical traditions.