Here are the most valuable books and journals I've found on folktales of Mouse Deer, the trickster called Kanchil in Indonesia, and Pelandok in Malaysia. Most links are for more info at Amazon.com, an affiliate. I've intentionally omitted most sources related to Hikayat Pelandok Jinaka (The Tale of the Wise Mouse Deer), a Malaysian Islamic work that is often retold as folklore but belongs more to the field of classical literature.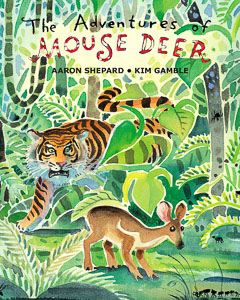 The Adventures of Mouse Deer: Favorite Folk Tales of Southeast Asia, told by Aaron Shepard, pictures by Kim Gamble, Skyhook Press, 2005. My own retellings for kids of some of Mouse Deer's most popular tales. (The full text can be found on my Web site.)
Kantchil's Lime Pit, and Other Stories from Indonesia, by Harold Courlander, Harcourt Brace, New York, 1950. No one surpasses Harold Courlander in the quality of his retellings. This is the book that made me fall in love with Mouse Deer. Written for young readers but well suited to older ones too.
Indonesian Legends & Folk Tales, by Adèle de Leeuw, Thomas Nelson & Sons, New York, 1961. Another fine collection aimed at young readers.
Fables & Folk-Tales from an Eastern Forest, by Walter Skeat, Cambridge, 1901. Malaysian versions.
Salam the Mouse-Deer: Wonder Stories of the Malayan Forest, by A. Hillman and Walter Skeat, Macmillan, London, 1938.
A History of Classical Malay Literature, by Sir Richard Winstedt, Oxford University Press, Kuala Lumpur, 1969. The section "Beast Fables" in the chapter "Malay Folk Literature" includes a good scholarly discussion of the Mouse Deer genre and its roots.
Favourite Stories from Indonesia, by Marguerite Siek, Heinemann, Kuala Lumpur, 1972. A Malaysian schoolbook, close to the source.
Journal of the Straits Branch of the Royal Asiatic Society (later renamed Journal of the Malayan Branch of the Royal Asiatic Society), No. 45, June 1906; No. 46, Dec. 1906; No. 48, June 1907; No. 76, Aug. 1917; and No. 82, Sept. 1920. Straight translations and scholarly discussions of Malaysian versions.