I love carousels! Here are my favorite reference books on the carousel or merry-go-round, including carousel horses. Most links are for more info at Amazon.com, an affiliate.
The Great American Carousel: A Century of Master Craftsmanship, by Tobin Fraley, Chronicle, San Francisco, 1994. The best general introduction to U.S. carousel history, with an eye to the social and economic trends that influenced it.
Painted Ponies: American Carousel Art, by William Manns, Marianne Stevens, and Peggy Shank, Zon International, Santa Fe, New Mexico, 1986. This is a book everyone drools over, with its gorgeous photos of historic carousel horses. The text on carousel artists and their history is good too!
Carousel Horses: A Photographic Celebration, by Sherrell S. Anderson, Running Press, Philadelphia, 2000. Another well-illustrated book on historic carousels, but with differences: Being written by a carousel restorer, it gives more on restoration techniques. And being originally published in Britain, it gives more on European carousels.
A Pictorial History of the Carousel, by Frederick Fried, A. S. Barnes, New York, 1964. This is the book that single-handedly revived interest in historic American carousels, and it's still unmatched as a reference. Sadly, almost all the illustrations are black-and-white, so you'll have to go elsewhere for pretty pictures. A bonus is a final chapter on band organs that is the best general treatment I've seen anywhere.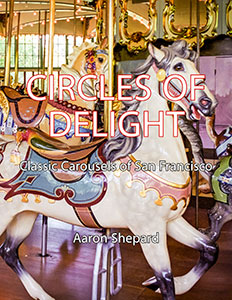 Circles of Delight: Classic Carousels of San Francisco, photos and text by Aaron Shepard, Shepard Publications, Friday Harbor, Washington, 2016. A collection of my own photos of three historic, restored carousels, taken in 2004, plus notes on their history.